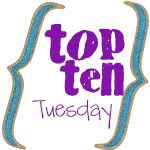 I've seen this Top Ten Tuesday come through my Google reader for a few weeks now, and decided today was the day to join in. Now, what to blog about...
Top Ten Favorite Children's Books
:
1.
The Color Kittens
by Margaret Wise Brown - this was one of my absolutely favorite books from my childhood, Wink and Blink mix colors and cause a bit of trouble. My kids aren't quite as thrilled with it as I was, but they let me read it to them, anyway. I have a few copies around here.
2.
Love You Forever
by Robert Munsch. Have you read this book? I cry every single time, it's such a true story of a parents love for their children throughout their whole lives. If you haven't read it, it's time - go find a copy!
3.
Count with Me
by Shirley Barber. I love the artwork in this book, and there are lots of colorful items to count.
4.
Green Eggs and Ham
by Dr. Seuss. This one is a classic, don't you agree? I really enjoy this book, the rhyming is great. I love it, I do Sam-I-Am.
5.
The Lion, the Witch and the Wardrobe
by C.S. Lewis. What a great book! This was one of my favorites as a child, and it still ranks as a favorite in my mind. I have re-read the whole series and it is awesome.
6.
Charlotte's Web
by E.B. White. I still cry during this story, and I know what's going to happen. I love Charlotte, I love Wilbur, I love this book.
7.
If You Give a Mouse a Cookie
by Laura Numeroff. All three of my children love this whole series of If you Give a ... books. They are a great to read, and flow well - I love the cause/effect.
8.
Ramona the Pest
by Beverly Cleary. One of the first chapter books I remember reading and LOVING. My kids are really enjoying Ramona books too. It's fun to see them read these books that I enjoyed so much years ago. And, Ramona is still a pest!
9.
The Great Brain
by John D. Fitzgerald. This is a book that I just recently encountered but it's a great book for kids. My son (reluctant reader) has really been involved in reading this whole series of books. It's set in Utah in the 1890's so it also has some history.
and last, but not least
10.
Pat the Bunny
by Dorothy Kunhardt. I love this touchy, feely book - it has simple text, great textures and my kids all enjoyed it. In fact, it's a book I love to give as a gift for new babies or baby showers.
It was hard to settle on just ten books! What books would you add?
Be sure to stop by the
Top Ten Tuesday
, and see what other people are writing about this week.