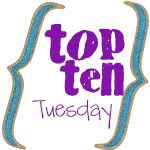 I am hopelessly addicted to blogging. Seriously. Oh I know you are looking at my blog and thinking, not so much, Kim - look at the gaps in those posts. I mean I am hopelessly addicted to reading blogs. I have over 100 blogs subscribed in my reader, hopelessly addicted. I am cranky if I don't read certain blogs daily - and oh my gosh, if they don't post on a daily basis, I have to go directly to their blog and look at previous posts (I know, I know - hopelessly addicted).
In no particular order, here are the ten blogs I love to read daily.
1.
Almost Unschoolers
- I love, love, love how she homeschools / unschools. This is where I want to be one day - it's how I hope our homeschool evolves. Once I relax and take it easier.
2.
Weird Unsocialized Homeschoolers
- I always, always love what Kris has to say. I relate to what she says on her blog, and how it can relate to me.
3.
To Be Busy at Home
- another homeschooling blog, are you noticing a trend here? I do have other blogs that I read that aren't just homeschooling, I just really love to read about homeschooling. I especially love Samantha's blog, because she tells it like it is. She's inspiring to me.
4.
Money Saving Mom
- I like to save money!
5.
Lynn's Kitchen Adventures
- Food, yummy!
6.
Life As Mom
- great tips, great recipes, great blog.
7.
Smockity Frocks
8.
Ramblings of an Unschooling Family
- this is the blog of one of my local friends - I love reading her stories!
9.
Our Busy Homeschool
- Again, I love, love this blog - I feel like I know Tristan, and I love reading about her homeschooling days.
10.
The Crafty Crow
- I love crafts. I adore crafts. Cutest crafts available here.
So, do you have a blog I should add to my top ten list? Leave me a comment and I'll check it out, it may just make my reader, I am addicted to reading blogs.
Be sure to check out what other great top ten lists are in the blogosphere this week over at
Oh Amanda - Top Ten Tuesday
.
See you there!