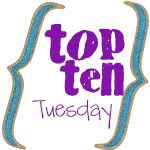 Okay, we probably watch too much TV, we don't even have cable, or we'd probably watch even more. I'm a visual person, so I just love watching TV - in my defense, I do usually have something crafty in my hands at the same time. Without further ado, here are shows that my family & I enjoy.
1.
Glee
- I absolutely love this show. My kids watch it, too - although sometimes I have to send the younger ones out of the room for a few minutes. Love it, love it, love it. I can't wait for next week with the tribute to the Rocky Horror Picture Show - I've already been practicing the Time Warp with my kiddos. Airs on Tuesday nights on Fox.
2.
Raising Hope
- This is another Tuesday night show. It follows Glee. Not necessarily appropriate for little children, but hubby and I find it to be very funny. The characters are great, I highly recommend it. Need a good laugh? Definitely check it out.
3.
Fat Albert and the Cosby Kids
- We have Netflix, so this show is in our instant queue. It brings back Saturday morning cartoon memories for me, and my kids are really enjoying it. Bill Cosby was so young!
4.
Criminal Minds
- Wednesday evening television. I have loved this show since it premiered in 2005. Not appropriate for children (lots of scary criminals), but I enjoy watching it.
5.
Hannah Montana, Forever
- The final season of Hannah Montana. We enjoy watching this as a family. Sometimes Hannah annoys me, but overall, it's a great family-friendly show.
6.
Wizards of Waverly Place
- Okay, I have to admit, I love Alex Russo - she is the way I wish I had been in high school. I just love everything about her, her attitude, her style, her joie de vivre. She's great. My kids really love her, too. Great Disney show (available on Netflix instant queue).
7.
The Amazing Race
- we haven't been watching this one as much this season, but overall, this would definitely rank as one of our top ten shows to enjoy. I love that we can tie in some geography and culture with a television show, easily. We have pulled out the globe on several occasions, while watching. Fun and educational, sweet!
8.
Fetch! with Ruff Ruffman
- This is a PBS show that we really love. It has challenges, science, math, reading, learning, problem-solving. Great show for kids, and I enjoy it, too. Ruff is a big animated dog who's the host of a game show, with six contestants who compete for points. It's cute and educational.
9.
Desperate Housewives
- This one is just for me, it's my guilty pleasure. I must say though, this season has not been as good as previous ones, IMHO. I still watch it, but it's not as must-see as previous seasons. It might be dropping off my top-ten soon.
10.
The Good Wife
- This is another one of those shows that I enjoy. My kids are always in bed by ten (not necessarily asleep), but in bed. So, this one I watch alone - sometimes hubby watches it too, but he doesn't find it that exciting. I love the storyline. Alicia is great and what a strong woman. I love Will, too.
Well that's it - my list of ten shows that grace our television on a weekly basis. Have any favorites to share? Feel free to post in my comments. I'd love to hear from you!
Make sure to check out other top ten lists at
Top Ten Tuesday at OhAmanda.